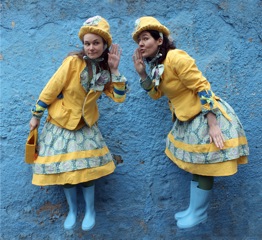 Story Dress is a storytelling and technology performance project for children in hospital which ran from 2013 to 2014 at a children's hospital in Dublin. This artist in residence project revolves around a uniquely designed interactive storytelling dress which has in-built lighting effects and an embedded soundscape, activating music and sound effects, as artists Eléonore Nicolas and Fiona Dowling tell children stories on the wards.
Story Dress was made possible by the following people: artists Eléonore Nicolas and Fiona Dowling, dressmaker and design consultant Caitriona Ni Threasaigh, music and digital artists Mark Linnane & Fionnuala Conway. Story Dress went from dream to reality thanks to the wonderful people who funded it through the Helium Fund:It campaign.
Story Dress is currently supported by the Arts Council.